Seattle Mourns Ernie Hatfield, Well Known Jazz Musician.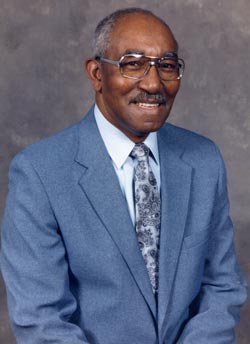 Ernest John Hatfield (Ernie) was born in Chester, PA on July 5, 1914 to the union of Mr. John Hatfield and Mrs. Lilian Hatfield. He was called home on November 21, 2002. A loving husband and father, he is survived by his wife of 53 years Mary Ann Hatfield, his sons Ernest Jr. and Bryan, daughter Ernestine Smith, and a host of grandchildren and great grandchildren.
The younger of two children, Ernie was only 8 years old when he began working after school to help supplement the family income. This work ethic and dedication to family would follow him throughout his life.
His musical talent was also recognized at an early age. He sang in the school and church choirs and at the age of 12 he began performing on weekly radio shows. While working summers as a bellhop in Atlantic City, Ernie was exposed to the emerging new sound that became his life long love, jazz. After graduating high school he embarked on a musical career that would span a lifetime.
During the prewar years Ernie toured and recorded with various groups before joining the Four Keys. It was this group that would later pair with jazz vocalist Ella Fitzgerald, touring and recording until they were inducted into the US Army in 1944. There Ernie would serve his country for two years organizing for and touring with the U.S.O.
After the war Ernie started working and touring as a piano player. It was during one of these tours that he first saw the Pacific Northwest and decided this was where he wanted to raise his family. He settled in Seattle in 1951 and since that time has been an integral part of the Northwest jazz scene. A lifetime member of the Musicians local, Ernie played with many of Seattle's premiere musicians in both public and private settings. He was a regular attraction at the Seattle Tennis Club, Seattle Yacht Club, and other venues throughout the area. During the day he worked as a surplus evaluator for the State of Washington where he retired after 25 years.
Ernie was a giving man in every sense of the word. He was well known for his charity work, willingness to help and ever present smile. He had a special way with young people, imparting on them his years of wisdom with a genuine sense of humility. As a father he blended just the right mix of nurture and discipline providing an environment of love we couldn't help but to flourish in. His enthusiasm and vigor for life were his greatest music, a song that will be greatly missed.
His life was celebrated at a liturgy of the Word held at St Joseph's Church at 11:30 am on December 3, 2002 with a fellowship reception that followed in the reception hall.
Sign the guestbook.